Niagara Glen/Gorge Loop 7+ km

Niagara Parks
Niagara Parks is an agency of the Government of Ontario since 1885. I suggest you examine the Niagara Glen Nature Centre web page for information especially the Niagara Glen web page since has links to trail maps (PDFs). The PDF trails map provides you with a variety of pathways in the gorge. The 7 km loop provided below is a variant of the trails shown in the PDF and can easily be shortened or lengthened.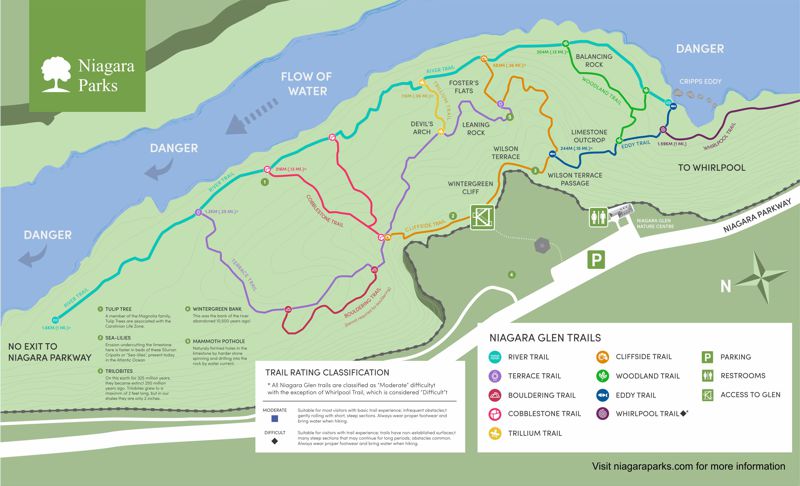 Click map image (above) or here for the complete map (PDF).
Note that the PDF map provided for download from Niagara Parks is designed for 8.5" x 14" (legal) size paper.
Whirlpool
Aerial View of the Niagara Whirlpool and the Niagara Gorge (Niagara Falls Public Library) | Wikipedia
Greater Niagara Circle Route

"The Greater Niagara Circle Route Trails System is over 140 km of mostly off-road, paved trails suitable for walking, cycling or rollerblading. The paved trail is mostly three metres wide and passes through urban centres, downtowns, the Niagara Escarpment, waterfronts and agricultural areas." You may wish to download an 8.5 MB PDF map of the Greater Niagara Circle Route Map that measures 19.0" x 25.0" from the Greater Niagara Circle Route Maps web page. Also check Walking Trails in Niagara for more information for this region.
Niagara Cycling Tourism Centre Website
The Niagara Cycling Tourism Centre website is a good resource especially the Greater Niagara Circle Route page that provides a description, route map and GPX (GPX download).
The 7 km Niagara Gorge Loop
The track shown in the map below follows some of the Niagara Glen trails shown in the PDF map available online (see above). However it extends to the whirlpool area and parts of this loop may be a bit of a challenge for anyone who does not hike regularly. Niagara Nature Centre and Parking (43.129246, -79.060504)
Niagara River Recreation Trail
The Niagara River Recreation Trail is one of the trails making up the Greater Niagara Circle Route mentioned above. The Niagara River Recreation Trail is a 56 km paved trail from Niagara-on-the-Lake to Fort Erie, Ontario. It was constructed in 1986 and is a paved path for non-motorized traffic. It is divided into four scenic sections: (1) Niagara-on-the-Lake to Queenston; (2) Queenston to the Whirlpool Aero Car; (3) Chippawa to Black Creek; (4) Black Creek to Fort Erie.
Niagara River Recreation Trail from The Glen to Fort George
If you are in this area for a couple of days with good weather you may wish to walk or bike a portion of the Niagara River Recreation Trail from the Niagara Glen (see below) to Fort George. Below is a map of that segment and the total distance is about 18-20 km depending on where you decide to start and finish. A few waypoints are included like museums and wineries that may appeal to you. Note that some of these locations (waypoints) a short distance from the actual trail.
GPS Tracks for Download
NiagaraGorgeLoop_7km.gpx OR NiagaraGorgeLoop_7km.kml
GlenToFortGeorge.gpx OR GlenToFortGeorge.kml
View pictures taken on a group hike in the Niagara Glen on October 1, 2015